Jurassic World: Dominion Dominates Fandom Wikis - The Loop
Play Sound
The Crab Clan is a Great Clan led by its Champion Hida Kisada. The Clan is responsible for defending the Emerald Empire from the threat of the Shadowlands.
Description
[
]
To the south of Rokugan lie the blighted Shadowlands, a dark realm under the sway of Fu Leng and the corrupted armies from the realm of Jigoku. The only safeguard between the Shadowlands and Rokugan is the mighty Kaiu Wall and its constructors and defenders, the Crab Clan.
To those who look upon the Crab kindly, their strength is impressive and their determination honorable. But to those who do not-those who benefit from the protection of the Wall without knowing the sacrifices it requires-the Crab are impolite brutes, too pigheaded to comprehend the intricacies of court decorum. Regardless of how others might view them, the Crab cannot mire themselves in bickering and intrigue. They present their back to the court only so they may more fully face the true enemy in the Shadowlands beyond.
As rugged, stoic, and tenacious defenders of the Empire, the Crab are at their best when they are defending against attacks and reacting to an opponent's aggression, weathering your opponent's best attacks, and retaliating when your foe is most vulnerable. As builders who excel at living off the land, holdings are important to the Crab to protect their provinces and power their characters.[1]
Major Families
[
]
Cards
[
]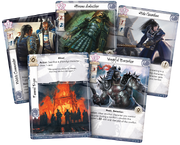 Video
[
]
References
[
]