Treaty is a card type introduced in the Clan War Premium Expansion. When using treaty cards, you simply select a random card when forming a treaty and place the honor value on it. When a treaty is broken, the player who broke the treaty reveals the card and resolves its text. [1]
Treaty Pad
[
]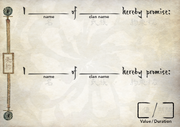 A treaty pad allows players to formalize alliances. When players make a treaty, they fill out the top form of the treaty pad to confirm what is being promised by each player, how long the treaty will last, and the value of the treaty. Each of these fields must be agreed upon by both players. The value essentially determines how much honor a player will lose should the terms of the treaty be broken. This incentivizes players to uphold their treaties, unless the perfect opportunity comes along.
Treaty
[
]
Name
Text Box
Desertion
(X is equal to the value staked on this treaty.)
The player who broke this treaty gives control of a character they control with the highest printed cost of X or lower to the player who did not break this treaty.
|- |align="center"| Dishonorable Dealings | (X is equal to the value staked on this treaty.)
The player who broke this treaty dishonor a character they control with the highest printed cost of X or lower. |} |- |align="center"| Exposed Secrets (treaty) | (X is equal to the value staked on this treaty.)
The player who did not break this treaty draws X cards. |} |- |align="center"| Falling Fortune | (X is equal to the value staked on this treaty.)
The player who broke this treaty loses X fate. |} |- |align="center"| Finding a New Lord | (X is equal to the value staked on this treaty.)
The player who did not break this treaty gains X fate. |} |- |align="center"| Forgotten Plans | (X is equal to the value staked on this treaty.)
The player who broke this treaty discards X cards from their hand. |} |- |align="center"| Second Chances | (X is equal to the value staked on this treaty.)
The player who did not break this treaty distributes X fate among characters they control. |} |- |align="center"| Sent to their Deaths | (X is equal to the value staked on this treaty.)
The player who broke this treaty discards a total of X fate from characters they control. |} |- |align="center"| Shattered Blades | (X is equal to the value staked on this treaty.)
The player who broke this treaty discards X attachments they control. |} |- |align="center"| Spreading Discontent | (X is equal to the value staked on this treaty.)
The player who broke this treaty bows a character they control with the highest printed cost of X or lower. |} |- |align="center"| Transgression of Honor | (X is equal to the value staked on this treaty.)
The player who broke this treaty loses X honor. |} |- |align="center"| Upholding Bushido | (X is equal to the value staked on this treaty.)
The player who did not break this treaty gains X honor. |}
References
[
]